The SWM Classic Motorcycles Gran Milano, Gran Turismo and Silver Vase don't just look good: The true experience lies in riding them. Feel the strong, torquey 445cc single cylinder propelling you along the road, accompanied by a deep exhaust note from the twin stainless steel exhausts.
Feel the Passion of a great Motorcycle:
 3 Uber cool models to chose from
 Torquey 445cc single cylinder engine
 Amazing power to weight ratio (145kg dry weight)
 22.5L Fuel capacity – Ride up to 500kms
 Made in Italy with high quality parts
 2 Years warranty unlimited mileage
 LAMS approved
 Affordable price, class leading value
How does the SWM Gran Milano compare?
Compared with similar motorcycles in the market, the SWM Classics don't need to hide. See below a comparison between the Gran Milano and its competition: Best value for money shows how serious SWM is to make their mark by providing excellent motorcycles in high quality for an affordable price.
But we agree: A test ride is the best comparison and with the Gran Milano you will be in for a (positive) surprise!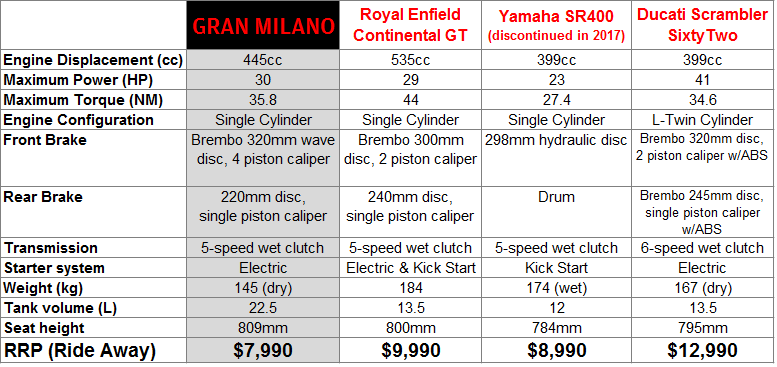 Like to know more about SWM?
Headquarters and factory of SWM Motorcycles are based in Biandronno, a small town in northern Italy. The modern state of the art factory used to be owned by Husqvarna and today produces a whole lineup of motorcycles.
Visit the Factory in Italy and read about SWM's interesting history below.
The SWM Story
Early Years 1971 – 1984
SWM was formed in Milan back in 1971 by two off road racers, Piero Sironi and Fausto Vergani. Their range initially consisted of three models, 50cc, 100cc and 125cc, equipped with Sachs engines. The company claimed claiming several titles in Italian and European level Motocross & Endurance class, and went on to produce a range of motorcycles until it ceased production in 1984.
The Revival of SWM
It is not a coincident that the first SWM models to appear on the market after taking up production have a close similarity to the original Husqvarna off-road motorcycles.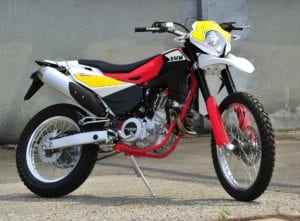 In 2007, BMW purchased Husqvarna motorcycles with the intention to continue producing motorcycles under the brand Husqvarna as a separate enterprise. The factory in Biandronno has been modernised under BMW to position Husqvarna as the "the two-wheeled version of what Mini is to the BMW's car division".
However, things changed and in 2013 BMW sold Husqvarna to KTM, who then laid off most of the staff in the facotry in Biandronno and moved production to Mattinghofen, Austria. KTM put in their own engines and technology – they basically purchased the brand name with that move. As a result, the factory and the original Husqvarna designs were put up for sale.
SWM has re-emerged in 2014 as a result of a new partnership between Apelio Macchi and Daxing Gong. Macchi worked previously as the Technical Manager for Cagiva, Aprillia and finally Husqvarana where he obtained 51 world titles (46 with Husky, 5 with Aprillia). Included in these world titles was one for Australia's own Stefan Merriman. Gong is a successful Chinese businessman and the head of Shineray group. Shineray is a large scale manufacturer of two and four wheel vehicles as well as industrial products in China.
The majority of SWM staff are ex Husqvarana staff who previously worked under Macchi.
Visit our showroom:
2/10 Mercer Ln, Joondalup
Mon – Fri 9am – 5pm, Sat 9am – 1pm
NEW "SILVER VASE" 440
In Store Now!
SWM Classic Motorcycles explained.
SWM produces a range of off-road motorcycles, but since their first presentation on the Milan EICMA Motorcycle Exhibition in 2015, we were fascinated by their interpretation of Modern Classic bikes. The two models that come to Australia first – the Gran Milano and the Gran Turismo – are in fact the first models designed solely by SWM and we think they hit the jackpot.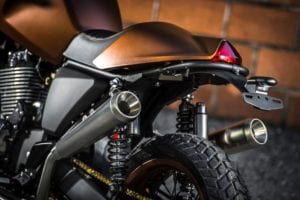 Both models are of solid, sturdy build with a lot of high quality finishes. It looks like SWM found a way using the right amount of modern technology to excel in reliability, environmental compliance and safety, while still keeping some classic components.
While the Gran Milano reflects the true Cafe Racer, the Gran Turismo has a more classic appearance and is an invitation for customisers. The affordable starting price leaves a lot of room for customising down the track and make it your own.

Gran Milano and Gran Turismo share the same fuel injected, air & oil cooled 445cc single cylinder engine that delivers power in spades. Together with the distinctive exhaust note, the SWM's leave an impression in your soul you could get addicted to. Beside the design, some small differences in measures make the two very distinctive rides.