Best 2-Wheel Repair Shop in Perth
For more than a decade, Ace Scooters is servicing well known scooter brands like Vespa, Piaggio and Aprilia and Kymco, as well as  SWM Classic motorcycles. Countless customers across all of WA who bought a motor scooter or a motorcycle from us over the years are relying on our workshop and our advice for their every day vehicle for good reason: We strive to provide the best service to our customers every day, making their vehicle safe, reliable and keep its value up.
Fixed Price Servicing: Your Advantage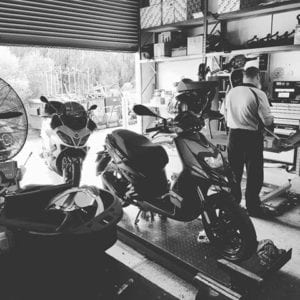 Ace Scooters is pretty much the only scooter dealership in Perth that offers Fixed Price Servicing. This means every logbook service on your scooter comes at a known price, there are no surprises and you will know in advance what you are paying for a standard service. Don't hesitate asking us for a quote. Keep your make/model and mileage handy and we can tell you what it costs in a second.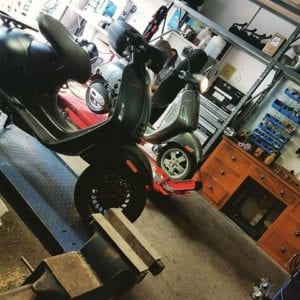 We have the MOST EXPERIENCED scooter Mechanic in all of Perth working on your vehicle

We provide FIXED PRICE SERVICE so you know beforehand what it will cost you – no surprises

We keep a fleet of COURTESY VEHICLES you can borrow when you have your vehicle in service with us

We are CENTRALLY LOCATED in Balcatta – approximately 15 minutes from the CBD, from Joondalup, Midland or Scarborough
Logbook Service
Getting your vehicle serviced based on mileage and age is a recommendation by the manufacturer to ensure safe and reliable operation for the rider as well as others, but also keep up warranty on your vehicle. Our workshop is fully equipped to service any of the vehicles we sell and we keep the most commonly used service parts in stock. It is our policy to ensure once a vehicle leaves our workshop, it is in top condition.
Tuning
Quite often we are asked what we can do to make a scooter faster, improve handling or simply make it a more engaging ride. While we keep safety and reliability as our first priority, we know the "tricks of the trade". Within reasons and legal limits we can help with aftermarket parts, performance kits and even advice if you plan to undertake your own project. Talk to us, advice is for free!
Courtesy Fleet
We appreciate that many of our customers come from around Perth CBD and even south of the river. To make it easy for you, we operate a small fleet of courtesy scooters 125cc and larger that are available for our customers when their scooter is in service with us. Please ask us for a courtesy vehicle when you book in your service.
Repairs
Should repairs be required on your vehicle, we will go the extra mile to get you back on the road as quick as possible. Our wealth of experience with our own vehicles helps us locating a fault quickly. Having access to the vast catalog of spare parts allows us to take the right actions getting your scooter back on the road in perfect condition.
Insurance Jobs
In case of an insurance claim (or if you think you should report damage to your insurance) talk to us first. We provide you with a full 360 degrees service from initial advice to handling your claim once lodged up to handing you your vehicle back to you once repaired in as new condition. We are a licensed repairer for many insurances and are experts when it comes to deal with them. Let us take the hassle out for you!
Tyre Fitting
Although we are focusing repairs to our own makes of vehicles, we can fit tyres for all makes of scooters. We might not have all sizes for exotic models in stock but can get them in most of the time within the same day. Call us for a quote if you need a tyre changed.
Servicing other Brands
We are providing exceptional service for scooters of the brands Kymco, Piaggio, Vespa and Aprilia. Unfortunately, with very few exceptions we can't service some of the scooter brands out there. Our workshop is only that superior because we focus on brands that are reliable, of high quality and we can get parts for. We sometimes feel sorry for people who have been buying a cheap imported "no-one-knows brand" scooter and can't find anyone who can help them when there is a problem. However, in almost all cases a tyre change is no problem…. or we will do our best to direct you to the right place so your vehicle can get the service it requires..