Leading in Technology
Piaggio & C. SpA (Piaggio) has a very interesting history: The company was founded in Italy in 1884, initially producing locomotives and railway carriages. During World War I they focused on producing aircraft. After World War 2, Enrico Piaggio, the son of Piaggio's founder Rinaldo Piaggio, decided to leave the aeronautical field in order to address Italy's urgent need for a modern and affordable mode of transportation. The idea was to design an inexpensive vehicle for the masses.
Aeronautical engineer Corradino D'Ascanio, responsible for the design and construction of the first modern helicopter by Agusta, was asked by Enrico Piaggio to create a simple, robust and affordable vehicle. The vehicle had to be easy to drive for both men and women, be able to carry a passenger, and not get its driver's clothes dirty. In 1946 Piaggio launched the Vespa scooter (Italian for "wasp") and within ten years over a million units had been produced. The Italian language gained a new word, "vespare", meaning to go somewhere on a Vespa.
Today, Piaggio  designs, engineers, manufactures and distributes two wheeled motor vehicles and compact commercial vehicles under several brands:
Piaggio
Vespa
Aprilia
Scarabeo
Moto Guzzi
Derbi
Gilera
Piaggio Commercial Vehicles
Modern engineering, ground breaking technology and cutting edge design across all brands make Piaggio today the leading scooter manufacturer worldwide. While more people know the brand "Vespa", Piaggio scooters today are mainly focused to provide a modern, affordable and fun way of transport for the masses, following their original intention.
Check below another example of modern Technology: The Medley 150. A combination of large (front) wheel and smaller rear wheel scooter that allows a huge underseat storage. Advanced fuel injection with start/stop automatic and ABS standard as one of the first on a 150cc scooter will certainly make an impact on the market.
A scooter on 3 wheels?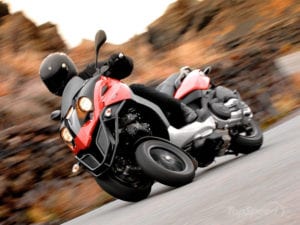 While Piaggio is mainly known for their main brand Vespa, their permanent focus on engineering and design over decades has produced several ground breaking new vehicles and technologies. Other manufacturers adopted and copied them over the years but Piaggio keeps surprising us with new stuff almost every year.
Probably the most famous (and still head turning) recent development from Piaggio was the tilting 3-wheel technology first introduced on the MP3 scooters in 2006. This technology has since been refined in the MP3 300 Yourban available in Australia.