50cc Scooters: Quality, Reliability and Fun – All on a Car License
In WA the most common size of scooters sold are 50cc. This is largely due to the fact that you can ride them on your car license, and because they are generally cheaper to run than the larger engine-sized scooters both from a registration and servicing perspective as they have very simple engines! And for many scooter riders this is also where they start their riding career as you can ride one from the age of 16 on an R-N or moped license.
If you've never bought a 50cc scooter before, we would strongly suggest that you read this article first. There are many pitfalls that are easy to avoid if you know what to look for.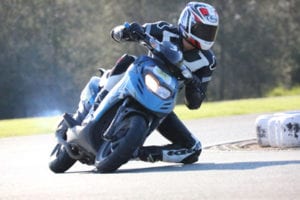 Please find below our 50cc line up. For more details on each individual machine, simply click on the individual links.
What to look for when buying a 50cc scooter
A good engine will last longer, perform better and start more easily than an unreliable one. This fact is highly important, since reliability on a 50cc scooter is largely about engines. We are fortunate to stock 5 of the most popular 50cc scooters for sale on the market today. They all utilise the same highly reliable, and very efficient HiPer 2 engine from Piaggio, or in one case, a liquid cooled derivative of it. 
The 50cc market is often considered the budget end of the scooter market, so a number of brands on the market offer low cost over reliability. 
Two things to be aware of:
1.) While price is not always an accurate reflection on quality and reliability, in the end you get what you pay for. Lower price almost always means lower build quality, cheaper materials, reduced safety as well as poor resale value.
2.) Brands DO matter when it comes to servicing and reliability. A quality brand will not undermine its brand value by developing and selling poor goods.  
If you are interested in more information about buying a 50cc scooter, check out our 50cc advice page here or give us a call on 08 9300 1719. Our helpful staff will be happy to assist you.