50cc scooters
Great for local use and can be ridden on a moped (R-N) or on a car license in WA which is their biggest advantage. If you don't want anything bigger, they are affordable, cheap to run and very reliable.
125-200cc scooters
The midsize capacity give you flexibility to get almost anywhere and allows you to keep up normally with traffic. The are suitable for major roads and the occasional freeway ride.
250cc and higher
Perfect for all roads including freeways with one rider or two-up. They can easily perform at freeway speeds and larger maxi scooters are more suitable for longer distance riding.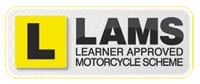 Important to know:
With the recent introduction of the LAMS licensing legislation in WA, almost all of our scooters can now be ridden on the "restricted" motorbike license (R-E) or the more commonly used R-EA (restricted automatic) which covers the vast majority of scooters.  In short, the new rules allow new riders to ride most  scooters and most motorcycles up to 660cc. The only exception in our scooter range exceeding the LAMS class is the Aprilia SRV 850, which requires the R-A or R license.