W

hen you are buying a car, you'd be crazy to purchase without trying it out first, and scooters are exactly the same. Test riding a scooter is almost always the best way to make up your mind. And we encourage our customers to take the scooters they have their eye on for a test ride – but best not just around the block.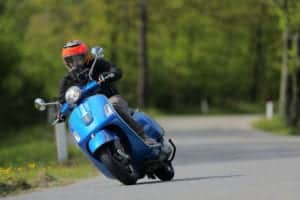 A longer ride will show advantages and disadvantages very clearly and gives you confidence to make the right decision. After all our goal is to sell the right scooter to you, the one that suits you best and does what you are expecting from it and not the most expensive one.
While it would be impossible to have a near new demo of every model that we sell, we try to have a selection that will allow you to test out the different engine sizes and the ergonomy. Ond of course all the used models are available for trying out too. The value of having a comprehensive demo fleet is that it gives you a chance to see what these scooters are like once they are run in and their engines are loosened up. It's an investment that not all dealers make, but one that we think is essential. We at Ace are confident that our range of quality scooters has at least one perfect fit for everyone.