Piaggio Medley BIKESALES SCOOTER OF THE YEAR 2016
It's no surprise the Piaggio Medley sets a new standard in scootering
December 14, 2016

Posted by

Fredy
Comments Off

on Piaggio Medley BIKESALES SCOOTER OF THE YEAR 2016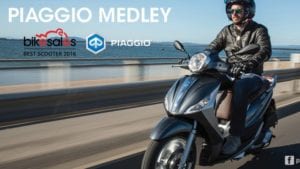 Great news: The Piaggio Medley has officially been named Bikesales Scooter Of The Year for 2016! With a level of of specification unmatached in the 125 – 200 scooter segment including ABS and stop / start technology the award comes as no surprise. Below is a short summary about The Bike Of The Year program:
"In a comprehensive process, new vehicles are shortlisted based on key lifestyle and segment criteria, driven and rated and then defined as 'Recommended' choices for consumers. From here our team of experts overlay industry standard setting data from Redbook.com.au and the wider carsales network to determine winners that define excellence, innovation, class-leading safety, performance and value for money. 
Each of the winners of the 2016 bikesales Bike Of the Year Award categories deliver on these attributes — and then some… That is why these awards represent a true celebration of the very best new bikes on sale in Australia today."
Read more about the Piaggio Medley here.
Or call us on 08 9300 1719 to learn more.