ITALJET: TRUE ART IN MOTION
Hand crafted E-Bikes made in Italy that resemble the early days of motorcycling are the leading product line of Italjet today. With the new e-bike range, design became an art and execution a true passion. Built to the highest technical standards, featuring disc brakes front and rear, sensor operated lights and much more like leather 'tank like' battery holder – or the famous Brooks saddle.
LEGAL ON AUSTRALIAN ROADS
The Italjet E-bikes have a maximum output of 250W and a maximum assisted speed of 25km/h, meeting the EN 15194:2009 or EN 15194:2009+A1:2011 standard for pedalecs. Being within these limits, they are legal for road use in Australia and don't need to be registered.
4 MODELS AVAILABLE
ASCOT CLASSIC (classic look, 24″ wheels)
ASCOT ONE (classic urban style, wide 26″ wheels suitable for taller riders)
ASCOT SPORT  (sporty design, 6 colours available)
ASCOT ADVENTURE  (sturdy appearance, mid motor double front disc brakes and 4″ tyres)
A wide range of accessories is available for customisation and individualisation to complement the beautiful design.
CLASSIC DESIGN
Designed and built near the Italian town of Bologna in the prestigious Motor Valley, design of the Italjet E-bikes is true art in motion. Flowing lines with a combination of high quality metals and leather components make the Italjet bikes standing out from everything else available in the market. Cycling has never been more fun and the electric 250W motor makes it easy and fun.
EFFORTLESS CYCLING
Italjet E-bikes are pedal assisted cycles equipped with a 250W electric motor. 5 levels of assistance provide ample power to make cycling effortless on the flat or even better when going uphill. The 250W electric motor is stored in the front hub and is maintenance free. To make sure you get around and enjoy the full ride, a full charge gets you up to 50km range.
HANDCRAFTED FRAME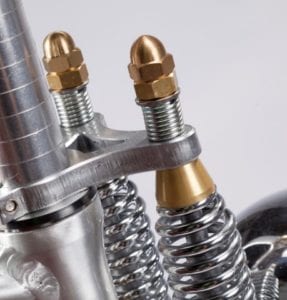 The aluminium frame with integrated leather bag holding the battery is handcrafted in Italy. The "Springer Fork" is built similar to some early motorcycles and is the feature design piece that excites everyone who sees an Italjet E-bike. They don't just look great, they also ensures a smooth ride. Combined with the spring loaded Brooks saddle the ride is exceptionally smooth and soft. To top it off disc brakes front & rear, a brake rear light that comes on when you stop and a light sensitive LED headlight ensures your ride is safe.
WIDE RANGE OF ACCESSORIES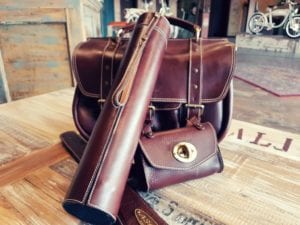 A wide range of genuine leather accessories is available for the Italjet E-bikes that allows you to refine their look even more to your taste.
Side pannier bags left & right
Chain cover
Tool pouch
Umbrella holder
etc
Check out our assortment in our showroom in Balcatta.

Passion, Design and Quality since 1959
Founded by Leopoldo Tartarini, a motorcycle rider with great passion to create vehicles with personal flair and innovation, Italjet vehicles have always had something special. With over 150 different models of mainly motorcycles and scooters produced since 1959, the vast collection shows a history line not many other brands can show. Their design has always been innovative, if not trend setting and sometimes a bit outside the box as well. A known example, the small motor scooter named 'Pack 2' became part of the permanent collection of the Museum of Modern Art in New York (MOMA) and the scooter Formula 50 L.C. was chosen for the exhibition "The Art of the Motorcycle" in the Guggenheim Museum in New York.