So you're thinking about getting a scooter bu are not sure which one or what size? One question you need to be able to answer is why do I need a scooter? Once you answer that then the rest will fall into place.
While a scooter is often an economical choice, the more you are aware what you use the scooter for the clearer your choice of vehicles will be. Our stable of Vespa, Piaggio and Aprilia scooters range from 50cc up to an impressive 850cc, and each size is most suitable to particular ride requirements.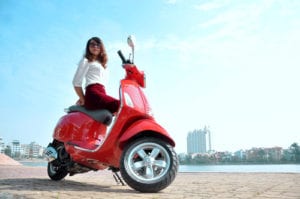 50cc Scooters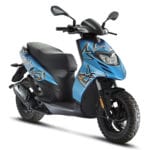 50cc Scooters are speed limited (by law). They are best suited for local suburban travel and busy inner city rides on low speed zones. But mind you, this is a crowded market where a lot of cheap imports are on offer where most are designed for speeds up to just 35km/h only. This while some of the 50cc scooters like the Piaggio Typhoon 50 as well as the Aprilia SR MT 50 also come in a 125ccm version exceeding top speeds of 100km/h. It means those 50cc scooters are equipped with a frame, wheels, braking system etc for higher speeds and they are logically much more sturdy, stable and much safer to ride.
125 - 150cc Scooters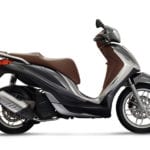 125 – 150cc scooters are best suited for more local travel, continuous travel on 80km/h roads and brief commutes on 100km/h speed limited roads and freeways. They are the most popular in crowded centres with high traffic as they provide enough power to keep up with traffic normally but usually are still lightly built and nimble in handling so you can get through traffic easily.
200cc scooter & bigger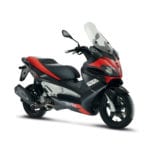 200cc scooters and bigger are best suited for local travel and continuous travel on freeways with a 100km/h speed limit and beyond. The 200cc scooters like the Aprilia Scarabeo or the Vespa GTS Family are a good compromise compared to the 150cc class scooters: They allow freeway travel in comfort but they are still relatively nimble around city traffic due to their compact frame size.
What we call Maxi Scooters are usually larger framed scooters with engine sizes of 300cc and larger. Their frame is usually wider and provides better protection for the rider, larger wheels smoothen the ride and provide more stability while generally heavier kerb weight increases comfort and convenience for the rider and a passenger. The extra power of a larger engine provides more relaxed highway riding and overtaking abilities. The bigger scooters are considered ideal for touring style long trips or longer commuting distances. While they might not be the preferred choice to weave through traffic, they can be luxurious and emit an impressive road presence like for example the new Piaggio X10 Executive.
In case of doubt the Ace Scooters team is more than happy to give you good advice in choosing the right sized scooter for your needs. It is our mission to provide our customers with the right scooter and not the most expensive one – or the one we want to get moving out of our showroom. After all riding a scooter should be fun and it should not break the bank either. We can confirm that most of our customers who relied on our advice already after a short period of time realise, how handy it really is to get around on a scooter and how much money they save over time while having fun as well.
Positive feedback we get from our customers in general confirm that we are on the right track: See what our customers say.