Gran Milano 440: First Impressions & Test Ride
You might gladly refuse to get off this bike again...
It is a long time ago since I didn't want to get off a motorcycle because it was so much fun to ride! While we knew the Gran Milano looks the business as a cafe racer before it even arrived, I was really curious to experience how it feels and performs on the road. I was wondering how the apparent solid build quality and high grade suspension performs when on a twisty road, or on the open highway. Ace always had high standards in products we sell to our customers and while the SWM Classics look great on paper (or the screen for that), it is important for us to experience them ourselves. All of us are riders and when we are being asked for advice, we usually know what we are talking about.
So there was no other way than pestering our Mechanic Bill to set up our first demonstrator short after they arrived, and put some kilometers on the bike to break it in and get a feel. Someone's got to do it after all… 🙂 and if we are already at it, what would there be better suitable than a ride through the Perth Hills on the first warm & sunny Sunday this spring?
But let's have a look what I thought after taking the Gran Milano for a longer ride through the Perth Hills.
1. Comfort & Handling
Having mainly ridden scooters in the last few years (to and from work that is), it took me a moment to get used to the sporty forward leaning riding position again. But once settled in, the Gran Milano feels engaging, sporty and more or less comfortable. The reach to the handlebars as well as the height and position of the foot pegs turned out to suit my frame quite well. This might be different for taller people of 1.85m height and more.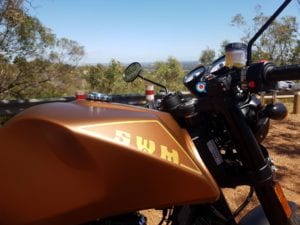 The edgy shape of the tank is a unique signature of the SWM Classics. While some miss the classic teardrop roundish tank form, I think it connects the classic look to a modern design and sets the SWM's apart from anything else. Riding the bike. the knees suit perfectly into the concave sides of the tank and the tank actually deflects a bit of wind from the kneecaps. This is not really a requirement in Perth, but might come in handy on cold days. The edges on the rear of the tank where it connects to the seat got a bit in the way around my thighs when I wanted to squeeze the bike going around corners. But it's not an off-road bike and the seat is due to that shape relatively flat and very comfortable. I felt no problem staying in the seat for over an hour without a break and could have gone on for a lot longer.
What I really liked is the instrument cluster with the white dials and the SWM sign in the Italian tricolore. Altogether it really looks very classy and speedo and rev counter are clearly visible while riding without having to take your eyes off the road. The odometer and trip meter are integrated in a small LCD panel in the speedometer. They are not very large and depending on the light a bit harder to see. What I missed here was a fuel level indicator. The Gran Milano only comes with a fuel warning light that seems to come on when there are approximately 6 litres left in the tank. Usually plenty to get to the next petrol station, but for that I prefer to reset the tip meter after every fill-up to have a bit more information. Bear in mind that the 22.5 liter fuel tank might take you over 500kms which is amazing and great for the long WA rides.
The standard suspension setup seems to work quite nice, even over speed humps and uneven country roads at higher speed. It's not a race spec suspension but given the overall dry weight of 145kg of the bike, they work really well. There was never a moment where I felt unsure on this bike. Even the blocky tyres (they were casting doubt in my first impressions when I saw them) held up well and the Gran Milano keeps its line like it is running on rails. Overall a very solid well planted riding experience that lets you ride for many kilometers without tiring you out.
I did not bother to play with suspension setup too much on my first longer ride. The 47mm upside down forks as well as the two hydraulic rear shocks are fully adjustable for the ones who seek to fine tune it even better to their weight and riding style.
2. Performance
Be aware that where ever you go, the Gran Milano will draw attention and people ask questions, especially how they perform. The 445cc single cylinder engine reminds me very much of my old (now considered REAL CLASSIC) Yamaha XT500, built in 1981. While the added fuel injection and 4 valves plus maybe an overall more modern engineering make the engine much more smooth, reliable and easy to start, the basics of a large single engine remain: There are vibrations coming through the handlebars and above 100km/h (on a racetrack of course), the rear mirrors get quite blurry. The engine feels torquey and is happy to revv up to around 8000rpm where the rev limiter cuts in long before the 1000rpm redline. It's got a true motorcycle feel to it: confident, engaging but you know there is a lump at work that sends some shudders to your fingertips. It really is a modern interpretation of a classic engine and a lot of people might be reminded of the old days when riding it. A pleasure is the gearbox which is easy to operate and the gears just slip in without a lot of hassle. The first few 100kms it was a bit hard to find the neutral position but this is not a problem anymore now.
3. How does it sound?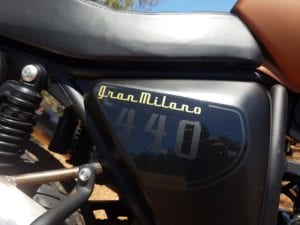 There definitely is something else worth tending to: It's no fun riding a motorcycle without good sound, right? The dual alloy exhaust pipes are a signature component of the Gran Milano's looks. Starting with two outlets on the front of the cylinder the twin pipes are guided nicely underneath the bike and then point upwards behind the foot pegs to come out at just about the height of the number plate. They are attached by brackets that are directly welded to the exhaust and have a removable baffle – for the ones that like it loud. Being a single and with Euro 4 emission law coming in from 2017, I was expecting the need to do something with the exhaust to give it a bit more sound, but this is not required. The sound is pleasant and grips your heart while it is not intrusively loud. Also I am thinking if we are putting a few more hundred kilometers on the bike, the exhaust will open up. I am already looking forward to it!! 🙂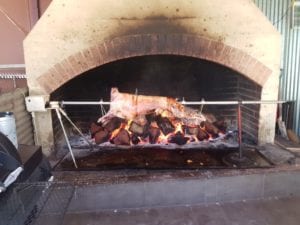 But for now, arrived at Mundaring Weir Hotel, it is time for a rest and a chat with a few fellow riders, enjoying the spit roast that looks like it will be ready very soon. I am impressed by the Gran Milano overall. It is by far not a sports bike but offers something like a true motorcycle experience that is not about speed but touches your soul and keeps holding on there. I am glad it took the Gran Milano out for a ride in the hills, then after all riding a motorcycle is not all about speed and cornering and technical stuff. It is also about meeting others, enjoying the outdoors and the sunny weather in good like minded company. The Gran Milano pulled me back into motorcycling and I can't wait to ride it again – or maybe the Gran Turismo and hopefully next year the Silver Vase.