Posted by

Fredy
Comments Off

on "Retro Italiano" – Review in Australian Motorcycle News (AMCN)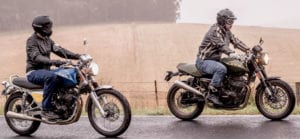 Classic off-road marque SWM is back with a pair of café racers! Steve Martin and PMac take the Italian stallions out for a gallop
Italian motorcycles are things of beauty, not only in their design but in the way they handle, the way they deliver their power, their presence and that feel-good factor that just makes going for a ride worthwhile. When I got the call from Editor Dobie to test the latest retro classic incarnations from SWM, he was quite surprised to learn that I had one tucked away in the shed. Although the marque is not well known, I grew up riding trials bikes made by the brand and to this day I'm probably one of the few people to have followed SWM's existence.
Read more…
You might gladly refuse to get off this bike again...
It is a long time ago since I didn't want to get off a motorcycle because it was so much fun to ride! While we knew the Gran Milano looks the business as a cafe racer before it even arrived, I was really curious to experience how it feels and performs on the road. I was wondering how the apparent solid build quality and high grade suspension performs when on a twisty road, or on the open highway. Ace always had high standards in products we sell to our customers and while the SWM Classics look great on paper (or the screen for that), it is important for us to experience them ourselves. All of us are riders and when we are being asked for advice, we usually know what we are talking about.
So there was no other way than pestering our Mechanic Bill to set up our first demonstrator short after they arrived, and put some kilometers on the [...]