Author Archives for Fredy
Most beautiful modern Vespa ever built - One new one left!
Not categorized

Posted by

Fredy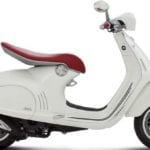 The Vespa 946 is THE iconic Vespa with an absolutely stunning design. We have one of the first 946 that have been built left that needs to go to a loving home. There are only 32 of these in white that ever came to Australia, so they are very rare to get and definitely are the nicest vehicle to cruise along the coast in the warmer months coming up now.Please note hat this is a brand new vehicle with 0km on the clock. It comes with full 2 years unlimited mileage warranty no worries. The advertised price includes on roads as well so this is a bargain hard to miss if you are after something really special that keeps it value.The vehicle is currently decorating our showroom and can be inspected at your convenience.