Ace Scooters is on the Move….
Find us in Balcatta from 16th October - Best Service at your doorstep!
We are pleased to announce that Ace Scooters will be moving to a more central location in Balcatta from 16th October 2017.
Please note that Ace Scooters will be closed in Joondalup Friday 13 and Sat 14 October due to relocation activities.
We are looking forward to welcome our customers on our new shop in Balcatta from Monday 16th October. Ace Scooters will be conveniently located on Wanneroo Road, close to the Reid Highway / Wanneroo Rd intersection, just 200 metres south of Cully's Yamaha. The new shop will be easily accessible from Wanneroo and Balcatta Rd and ample parking is provided out the front.
We will be within:
15 mins from Perth CBD
15 mins from Joondalup
15 mins from Scarborough
15 mins from Midland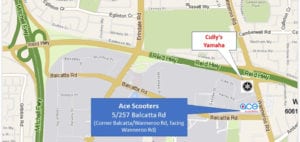 (Open Google Maps by clicking on the image map above)
With this move we will be able to provide a more central service for most of our customers – and of course we will keep providing the best scooter service available north of the river. If you have any comments or questions about our relocation please feel free to contact our Dealer principal Fredy directly on fredy@acescooters.com.au.