Unlike cars, you can't ride a scooter or a motorcycle without at least one accessory, namely a helmet. Dressing to the conditions is important, because when riding a scooter or motorcycle you want to be protected not only in case of an incident but also from cold in winter or excessive heat in summer to prevent dehydration. There are plenty of other items that you might want to buy to enhance your riding experience and extend the use of your vehicle.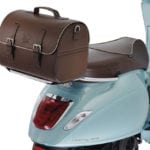 HELMETS
It's important that you wear a helmet that is safe and well fitted. A helmet should fit snug on your head and not be loose. But be wary, there should not be any pressure points as they would become painful and could be a safety risk once you ride. With the Australian Safety Standards changing, now allowing some European Standard helmets for legal use, you are spoiled for choice.
Don't buy a used helmet as you won't know the history of it. Helmets don't last forever and on average we believe you should update every three years. Never wear a helmet with a frayed strap or cracked visor.
GLOVES, JACKETS & FOOTWEAR
GLOVES: Not only do gloves protect us from the seasonal extremes but also nasty bees and wasps that land on our hands at the traffic stops. But the main reason is protection in case of an accident: Imagine not being able to use your hand (or both of them) for a while!
JACKETS: The summers here in Perth can be pretty brutal and hjot…as can the wintersbe cold and wet! A good jacket has strong armor in all the right places, and a lot have reflective strips to make you stand out in low light. We recommend both summer and winter jackets and never second guess if we should wear one or not.
FOOTWEAR: Thongs and sandals are not safe footwear for riding, a decent shoe or boot with protected laces or zips are a better option. Some riding "sneakers" are made of dense leather and reinforced at the toe.
PANTS: And wear pants!…and clean underwear…just in case! Don't wear a pretty little skirt or shorts because nobody looks cute with scabby knees!
Riding with mates – or just wanting to be able to listen to your MP3 files – or your preferred radio station is making riding a lot of fun. A good communication system doesn't blast your ears, has wind noise suppression and can be fitted on your helmet without problems. Ace Scooters is a licensed agent of SENA Communicaitons and we can recommend them: Our instructors use them every day and they know they can rely on them.
All our scooters are fitted with a steering lock that is almost impossible to crack. However, the biggest problem is the damage an attempted theft is doing to your scooter so you might want to fit something that deters thiefs in the first place so they don't even try to steal your vehicle. A GripLock is the best we have come along, but there are various other devices available like handlebar locks, disc locks and chains.
Where would the scooter world be without all the bling to personalise, customise and fit a vehicle to our needs for daily commute or make it look individual? We stock a wide range of front & rear racks, windscreens to almost all models available. Contact us with your needs if you can't find what you are after on our site and we will give you our best advise and can organise pretty much anything.
Under Miscellaneous you will find a lot of other useful stuff: Scooter covers that protect your vehicle from rain & sun, battery chargers, smart chargers and more.