When it comes to checking out scooters for sale in Perth, we know that you are spoiled for choice. Not just for brand favourites like Vespa, Piaggio, and Aprilia but also for scooter dealers. We recognise that for many people, that choice can be a bit daunting, and if scooters are new for you, we understand that you may not know who to turn to for good, honest advice and top quality product. At the end of the day, numbers don't lie. In 2012, Piaggio was easily the top selling scooter brand in Australia, and with Vespa, these two related brands captured over 25% of the entire Australian scooter market. And in 2012, Ace Scooters was the top selling dealer of Piaggio/Vespa scooters in Australia. The best of the best if you like.
So how has a scooter dealer based outside of the CBD managed to outsell all the big boys and central dealerships? Well we think there are a few reasons, but largely its because we focus on you and your needs. Since 2004, we've developed our detailed knowledge of the scooter market and its products so much so that we are regularly contacted by people all over Australia for advice about what to buy (and also where to buy it from!). We are known on the scootercommunity.com.au forums as a source of expertise and fair advice. Since we started, we've sold and serviced many brands of scooters, and over time we've realised what is good, and what could be better. That might be the product itself, but it might also be technical back-up, or quality of the warranty support. With this experience, we've migrated to selling and supporting products which we believe overall are the best on the market. Unsurprisingly, that's what the rest of Australia is saying too!
TRUSTED HONEST ADVICE
We like scooter riders because they're prepared to do something different and have a positive outlook on life. We know it's imperative to give fair, impartial, and practical advice to people who are checking out scooters for sale, and need advice on what scooter to get. At Ace Scooters we are scooter riders first and a scooter dealer second. ALL the showroom and workshop staff own and ride their own scooters. Which means that we know what will suit your needs (although we'll try and help you make that realisation yourself with good advice and test-riding!), and we are best positioned to help after you've purchased. Would you trust the advice of someone who doesn't even own or ride a scooter? Neither would we. We don't sell cars. We don't sell motorbikes. We don't sell poor quality product. You are always our most important customer. Always.
When it comes to choosing a scooter the most common size people go for in WA is a 50cc scooter, but at Ace Scooters we match your needs to the right model, and if that means getting a license, we are here to help. And again, unsurprisingly, we sell more of the larger engined scooters than anyone else in WA! Our objective is to make buying and owning your scooter as easy and enjoyable as possible. We guarantee that you'll get the best information and honest advice – you'll leave realising that buying a new vehicle could actually be good fun.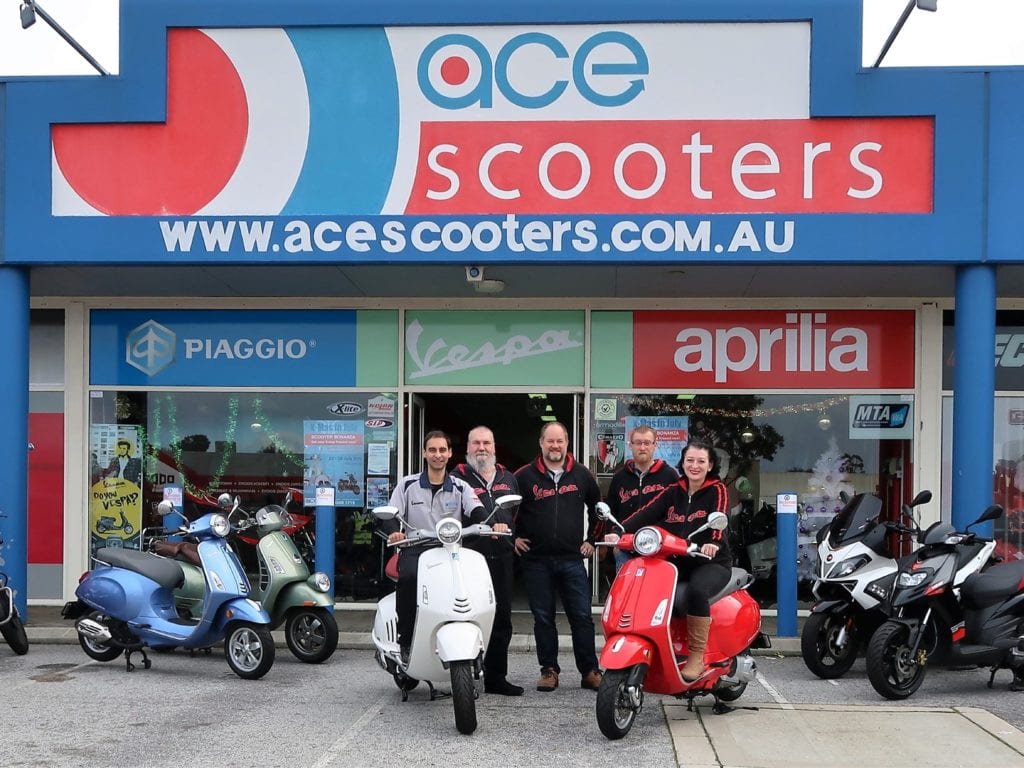 QUALITY MATTERS
We only stock scooters that we know are good quality, and ultimately good value. Sure, some may be a bit more expensive in the short term, but we know that in the long run you'll be rewarded with a scooter that will far exceed your expectations and will actually turn out cheaper – much cheaper! We are happy to send our scooters all over WA, because we know that our customers won't be left high and dry with a problem scooter that they don't know what to do with.
We don't expect you to just take our word for it; we encourage you to do your research, check out the scooters from other Perth dealers, and get on the web and get the views and opinions of other riders. At Ace Scooters we happily stand by what we say, and the service that we provide. Don't just take our word for it, read what some of our customers have to say!
WHERE TO START
If you are totally new to this whole scooter scene, we'd suggest that the best place to start would be our getting started page. If you need to get a license, we can definitely help so read here. Otherwise visit the showroom for what we sell, but please feel free to browse around the other pages for what we can do to help you.
So if you are looking for a Vespa, Piaggio or Aprilia scooter, visit Ace Scooters today! Have fun!